Do you have a Bigfoot fan in your life that you are looking for a Sasquatch gift for?
Here are our hand-picked Sasquatch/Bigfoot gifts that your cryptid fan is sure to love. There are lots of Sasquatch gifts and trinkets available which ones would make a perfect gift for a holiday or birthday.
The important part about picking the right Sasquatch gift is that you get something that will make them happy and not insult them if they are really serious about Bigfoot. We think these are all Bigfoot gifts that anyone serious about Bigfoot will love.
---
Standard Disclaimer: The following links may, at no additional cost to you, pay us a commission if you purchase any products via them.
---
1 – Sasquatch Multitool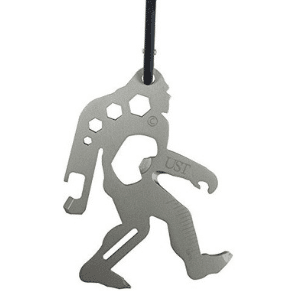 As multi-tools go, this Bigfoot Multi-tool may not be as practical as some, but it is pretty cool from the Sasquatch Gift angle. This will be a very practical and unique Bigfoot gift and one that your Sasquatch fan will actually use.
Shop for a Bigfoot Multi-tool on Amazon


---
2 – Sasquatch T-shirt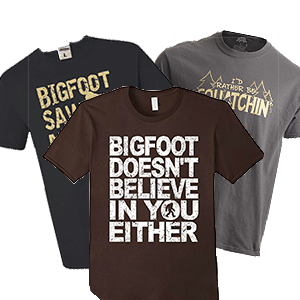 There are dozens if not hundreds of Bigfoot or Sasquatch t-shirts available on the market right now. Most are excellent Sasquatch gift ideas. It is really hard to go wrong (aside from getting the wrong size) buying your Bigfoot fan a Sasquatch t-shirt.
Shop Bigfoot and Sasquatch T-shirts


---
3 – Bigfoot Fuzzy Slippers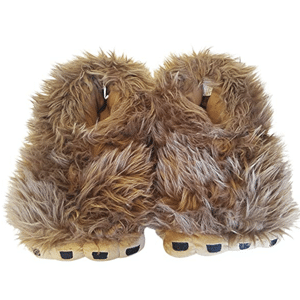 OK, you have to be buying these for the right believer in Sasquatch, but I will admit that even my grumpy self would wind up wearing a big pair of Bigfoot slippers on a cold morning if someone gave me a pair (that fit my already sizable feet.) Do some searching and you find a fair number of sizes and styles that will make for great presents.
---
4 – Sasquatch and Bigfoot Stickers/Decals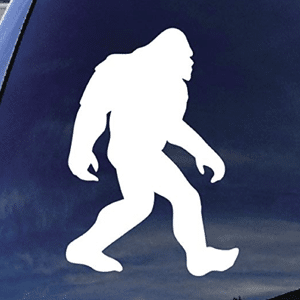 A Bigfoot or Sasquatch window sticker makes for a great small gift or stocking stuffer idea. There are loads of variations and patterns. If you are buying for a car be sure to get a color that will show up on glass if that is where they are putting it on.
Shop Bigfoot Stickers and Decals
---
5 – Sasquatch and Bigfoot Books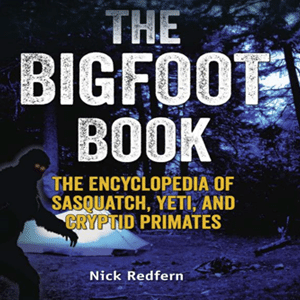 Finding good Bigfoot and Sasquatch books can be really tough, but if you know what to search for, you will find some that your favorite Bigfoot fan will enjoy. Please, whatever you do, don't buy them Bigfoot erotic fiction, yes that is a thing.
The link below will take you to a list of books that make excellent Sasquatch gifts.
Sasquatch and Bigfoot Book on Amazon
---
6 – Emergency Bigfoot Electronic Noisemaker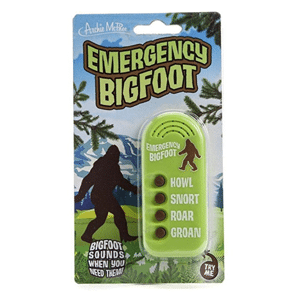 Completely in the fun category, a Bigfoot noisemaker is a good gift for your Sasquatch believer with a sense of humor. Yes, its only function is to make horribly imitated Bigfoot noises, but that is all it really needs to do to amuse Bigfoot and Sasquatch fans.
---
Your Sasquatch Gifts for 2019
There you have our choices for Sasquatch gifts for this year. We know it isn't easy to find gifts for Bigfoot fans if you aren't into it yourself, but we hope this guide will help you pick out some awesome presents for your friends and family!