What Were The Loveland Frogmen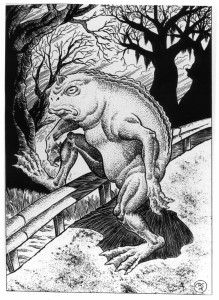 I find cryptids such as the Loveland Frogmen, that are seen a handful of times and then never or at least rarely again, particularly intriguing.  In this case, the Loveland Frogmen were seen by a few unrelated individuals then seen to have slipped back into whatever reality they arrived from.
This is very similar to cases like the Dover Demon where a few people encountered a strange creature over a short time span and then it was never seen again.
To quote a handful of sites:
The story of these unique creatures begins in May of 1955, on a lonely stretch of road that runs along the Little Miami River in Clermont County, just on the outskirts of a small town known as Loveland, Ohio.

At approximately 3:30 a.m., an unnamed business man claimed to have witnessed three, bipedal, quasi-reptilian entities congregating by the side of the road. The man pulled his car to the curb and observed these creatures for what he estimated to be about three minutes.
During this time he noticed that these strange beings stood between 3 and 4-feet tall, were covered with leathery skin, and had webbed hands and feet. Their most distinguishing characteristic, however, was their distinctly "frog-like" heads, which the man claimed bore deep wrinkles where there hair should have been.

---





---

Just as the man was about to steal away, one of the creatures suddenly held what the witness could only describe as a "wand" above its head. The anonymous source further claimed that sparks spewed out of the end of this device. Needless to say, he left posthaste.
Over the coming week I'll be updating this story as I can glean any original information on the Loveland Ohio Frogmen.  If you have had an encounter with a similar creature, please let us know!