How Do Objects Just Appear Out Of Nowhere?
Many of us have had objects disappear from under our noses, but usually it is just us forgetting that we put things down in the wrong spot. Other times, things appear that just shouldn't be there. in these cases, this phenomenon, referred officially to as apports, is much harder to explain.
Before I dig into some accounts of objects both disappearing and reappearing where they shouldn't be, I'll start with my own experiences with objects moving on their own.
The first was when I was a young, about age 10. I had done a drawing that I was proud of and had wanted to show it to my mother before bedtime. I looked everywhere for it.  My family was no stranger to ghosts, primarily those of our family hanging around, so I declared in a firm voice that I wanted it put back.  I awoke the next morning to find it sitting in the middle of my desk.
The second time was when I was in my 20's and living with a friend. We had both lost one item, a wallet and a keys I believe.  The house we were in wasn't that big and there weren't that many places to lose things. We knew that there had been a spirit hovering around and finally in frustration I declared "I want those items returned right now!"  Immediately I saw a streak of light cross the room to the bookshelf.
I walked over and reached up on top of the books to find both of the items that were missing.
Now for some other accounts of objects appearing out of no where, where they don't belong.
Coal Appears From Nowhere
From Gennie –
At our house in Wilkes-Barre, we noticed that one time when Jason went down to the basement that there was a small pile of coal in the middle of the floor, which was NOT there before. Jason would definitely notice something like this, as he likes going down to the basement to do "man" things such as fixing (breaking?) items, painting, etc. We have no idea how it appeared, and some of the pieces were pretty large. There hasn't been any coal in the house for 50+ years actually, but it used to be a coal mining town, so I was thinking perhaps a spirit of a coal miner could possibly reside there.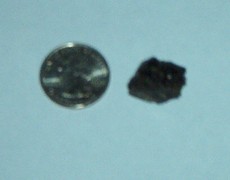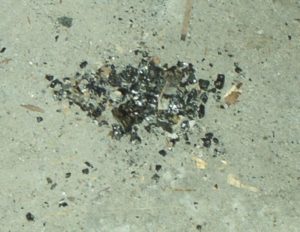 An Earring Appears From Nowhere
The ghost of a past girlfriend maybe playing tricks on someone?
Like I had said in an earlier post I made the bed in the morning and when I turned away for a sec and then looked back there was a single gold earring on the bed it wasn't there a min ago and I DESPISE gold so it wasn't mine and no one I know wheres gold I still have it i lost it but now I found it again and I have it locked away safe.

Another thing was a feather it came floating down on the carpet from thin air it wasnt a pillow feather this one was brown and white and medium size and sooooooooo soft I still have the feather as well.
Keys Disappear and Go Back To Work
Here's a story of an incident that occurred in 2000. I was working at a place that manufactured Barbecue Smokers at the time, and I worked from 2PM to 11PM, usually. I had gotten off work, and had a beer or two with the guys (and gals) and got in my truck and drove home. I unlocked the door to the stairwell, and then unlocked the door to my home. I did my normal time with my cats, and then went to bed, and I dreamed that a friend that had passed on came and said that she was going to get even with me for not bringing any beer home (!?!).
I woke up a bit later than normal, and just had the feeling that something was out of whack. My cats were all keeping their distance, so I figured that one of my ghost friends had actually paid me a visit, and dismissed the behavior. Then, when it was getting to be time to go, I started to hunt for my keys… I could not find them. I opened drawers, I checked under my bed, I removed the couch cushions…no keys.
I had a spare set of truck keys, but no keys for the doors of the house. I went down, opened up my truck, and searched through it-nothing. Finally I called work and told them that I was running late, because I had misplaced my keys, and I was on my way in. My supervisor then described a set of keys that he had found in his desk that afternoon…And yes, they were my keys.
Now, I DO keep a spare door key for my truck in my pocket, because I have locked myself out of my truck before, but I did NOT have a spare IGNITION key. So, IF I had left my keys at work the night before, how did my truck and I get home? How did I unlock the two doors to get me into my house? How did my keys travel over 15 miles, and wind up on my Boss's desk?
Book Vanishes and Then Reappears
Very similar to my account, this person demanded their things back and amazingly enough it worked.
A couple of years ago I lost my Debit card, and had a book I was reading suddenly vanish. I was at home alone, and had been reading the book while curled up on the couch. It was a white hardcover book – the couch was green. In other words, there was NO way I was simply not seeing the book; it was gone.

After searching the entire apartment several times, I finally went in and sat on the bed and just calmly started talking out loud, explaining that I knew my card and book would be found, that they would be returned to me…

I went out into the living-room and the book was open, face down, in the middle of the couch, on the page where I had stopped reading. I went back into the bedroom, and my Debit card was laying in the exact center of the bed…I quickly said a sincere thank you, put the card in my pants pocket, and finished the book…lol
Keys Vanish Only To Reappear In…
I used to live in a railroad (or shotgun) style apartment with a roommate, and my room being the last one (hers in the middle), I needed keys to enter and exit my room from the outside of the apartment, all day long. One day while getting ready for work, I found my keys had disappeared. My roommate and I tore up the apartment looking for them, overturning couch cushions, emptying purses and pockets, even opening the kitchen drawers – nothing. In the end we concluded I'd likely dropped them outside somehow or left them in the door and someone had stolen them. So the landlady had to come and have new locks installed that day. I was also two hours late for work. When I came home from work that night, I wanted to have a shower, and when I pulled the shower curtain back, there in the bathtub was my entire set of keys.
Source: Reddit
Sister Leaves A Parting Gift
My sister died last September 5th. I was having all the company at my house that accompanies a funeral– out of town guest, people eating and commiserating, you know. Well, we cleaned up the kitchen before bed on Saturday night and I stripped and cleaned the counter where all the sweets were being served (sticky, eeww!) So bright and early the next morning while hubby and I were still the only ones in the LOCKED house I found my sisters ankle bracelet on the otherwise empty and sparkling counter-top. The one she had been wearing when I found her. The one listed on the ME's papers as having come in with her body to the morgue. The one they can not explain to me where it went, and why they could not return it to us! Its okay. I know where it is. Right where she left it for me to find…
Fishing Lure Appears In Man's Hand
I was wade fishing a reed bed at a local lake for bass in about four feet of water. I had my favorite spinnerbait on my line and after catching a couple of fish I decided to retie to avoid a break-off. Much to my dismay I dropped the lure. Since it was working so well I was really disappointed and proceeded to look for it. I squatted down in the water, searched around, felt with my feet, re-checked the line to make sure I had dropped it, checked my pockets..everything. After several minutes I thought to myself I should just try to tie on another lure and hope for the best. At that moment the spinner bait appeared in my left hand. I do not remember feeling it and it certainly was not in my hand before. I quietly uttered a quiet "Thank You" retied it and continued to fish. This has puzzled me for many years now.
Ghost With A Tattoo Leaving Gifts
My daughter has lived in her house for just over 3 years now and every so often stuff appears out of 'thin air' She has been in the kitchen and heard a tiny bumping noise and when she went to look in the living room where the noise was coming from she saw a bottle lid bouncing off the table (no one else was in the house at the time) this has happened a couple of times in different parts of the house. Also more regularly she has heard a noise of something 'chinking' on the stairs and when she has looked she has found money at the bottom of the stairs, this has happened quite a few times, sometimes other people are in the house (her boyfriend and young daughter) but all of them are usually in bed when this happens. Other times she has been in the house on her own when it has happened. She has also found objects that don't belong to anyone such as an old comb and a half pence piece (which haven't been in circulation for ages) just sat on the coffee table even though she knows they weren't there earlier when she tidied up. None of the stuff that appears is of any value, the money is at the most a couple of twenty pence pieces or coins of lesser value (20p is about 10 cents – USA – I think)
My granddaughter heard my daughter telling me about this one day and said the money comes from the lady who lives in her bedroom (my granddaughter insists there is a woman in her room who has strange makeup on and a brown tattoo on the inside of one of her wrists) but that is all she will tell us, if we ask her about the woman she refuses to tell us about her.
My daughter isnt afraid of any of this, just curious as to where the stuff is coming from and also a bit worried it may be a poltergeist.
The house she lives in is only about 25 years old and we know that no one has died in the house as there as only been a couple of families in it before her. Before that there was just waste ground for years were the house is built.
Source: unexplained-mysteries.com
Playing Cards Appear In The Bedroom
I have been in my apartment for almost one year and when I moved in the place was spotless as it is in an apartment complex… I haven't moved the furniture in my bedroom since I have been here until today…. Not that moving furniture is a big deal but its what i found under my bed…. There was a pile of what looked at first like playing cards scattered on the floor near the wall. Thinking it was my daughter's I began to yell at her to pick it up when I noticed the strange pictures on some of the cards so I began picking them up myself. I have never seen these cards in my life and honestly they look as if they could be older than me. I know they were not here when I moved in and no one has really been in that room except myself and my kids & I know they weren't my 7 yr old daughter's. so what are they and where did they come from… TheY look like very old novelty tarot type cards…. But where on earth did they came from or who they belong to I don't know.
Dad Drops Reminders From Beyond The Grave
My dad used to like to rattle the coins in his pants pockets when he was alive. Now when I start to miss him or feel really upset or worried about something he comes to me in a dream, and the next morning I will find coins (dime's, pennies, etc.) on the floor right in front of my favorite sitting place in my living room.
We also have a spirit here that likes to hide things like lighters, keys, wallets, jewelry, etc. We end up finding them in either a matter of minutes or the next 2 days at the latest. LOL…
Shoes Moving On Their Own
Two comments on a thread about this related to each other, both with shoes showing up in very odd places.
We have had to have keys made because they vanished into thin air. The remote control has twice disappeared and never relocated. Once when my kids were babies, we found all three pairs of their shoes in the crisper drawer of the refrigerator!
The other person has a similar event happen with shoes reappearing in plain sight.
We went through the shoe thing! We could never find a matching pair. My children and myself would tear up the bed room looking for a particular shoe, and we walk in the living room, and there it would be, in the middle of the living room, you could of fell over it! And the strange part is, it wasn't there when we went through to get to the bed room! Plain as day, you would have literally fallen over it! All three of us! You know we use the old saying if it were a snake, it would've bit you, because it always happens, and we would find things in the strangest places.
Ghosts Dropping Trash
I have had this experience twice, both times in different homes that I have been living in. The first time happened many years ago; I came home late at night to find a "Pepsi Cola" bottle cap in the middle of my hallway. It was shiny and new. I didn't bring that product into my home. I have no idea where it came from. I had two small cats at the time and thought that maybe, they found this bottle cap somewhere and batted it around. A number of paranormal experiences followed this, such as objects going missing and reappearing, windows and doors opening, doors slamming, a door ripped off of its hinges, paper strewn all over the apartment. Eventually, it all died down. Fast forward thirty years or so. I recently bought a vacation home and when I entered after a number of weeks of being away, there was what appears to be a candy wrapper sitting on the kitchen floor. Again, I don't buy candy or cookies or anything that would fit in this wrapper and I haven't had guests for awhile, so no one else has brought this into the home. When I leave the house, all floors are vacuumed so there no chance that I previously overlooked it. The house is secure with an alarm system that is very reliable, so no one has entered. I haven't had any other paranormal experiences here besides two possible episodes of astral projection, or being pulled out of my bed and onto the floor. Of course, this experience may be some dream state phenomena, but I have experienced astral projection before, many years ago, and the sensation was the same. There are no other people in the home when these episodes happen. Any clues?
Ghosts Leave A Gift
About 25 years ago I moved into a rental house. One day I was in the basement to do some laundry and laying on the floor was a T-shirt I had never seen before.
It had the words 'No Bozos' on the back, printed on top of a picture of a clown face, and a circle with a line drawn through it on the breast pocket.
I wore that shirt for quite a few years before it became too raggedy to wear.
The funny thing is, when I rented that house, I had just finally been able to get away from a guy who had abused me for 15 years. I thought the 'no bozos' shirt was sent to me specifically, to strengthen my resolve!
Glasses Vanish Then Reappear
Every day for the past 30+ years, my husband's routine is the same every night. He takes his clothes off, puts them in the hamper, and puts his belt and glasses on the dresser. It's so routine that he doesn't even think about it.
Tuesday morning, he asks me, "Where are my glasses?" We both scoured the bedroom, looking behind the dresser and even under the bed, but no glasses. Luckily, he had an old pair so he wore those to work. He comes home from work, "Did you find them yet?" "No."
Now, I spend a LOT of time in our den, and I was there for several hours on Tuesday and also Wednesday (yesterday) morning. About noon yesterday, I went out of the den to get a sandwich for lunch yesterday, and when I came back, the glasses were sitting neatly on the floor below the light switch, arms extended. Our den has plenty of natural daylight and there was absolutely no clutter where they were (just sitting in a large and empty expanse of carpet), so it is virtually impossible that I could have missed them, as I would have walked right by them at least a dozen times between Monday evening and Wednesday afternoon. Btw, we live alone except for our dog and cat.
Glass Beads Randomly Appearing
In my last apartment, a few months before I moved, I suddenly had tiny, gold colored beads – one at a time – show up randomly. They were very small, smaller than seed beads, but had a hole in them like beads. A few different times I found them on the floor, once stuck to my foot, and one time I had left the house for no more than an hour and I came back and one was sitting smack dab in the middle of my bed.
Keep in mind I have very little jewelry, no beaded dresses, I don't have any craft hobbies, so I have absolutely no idea where they could have come from.
I've been in my new apartment a year, nothing yet.
Block Disappears Then Reappears
my Dad told me this story — He has had for years now (best way to describe it) a small stand that has blocks on it with interchangeable numbers. So, during the month when the date changed, the blocks could be moved around to reflect the current date.
One day, my mother dropped one of the blocks on the bedroom floor. She looked everywhere in the room—even had my Dad looking, too, but they never found it.
Three weeks later, they went out to dinner and when they came back and went into the bedroom, the missing block was in the middle of their bed.
Spirit Returns A Lost Key
Years ago I lost a very important key while I was out jogging. I went through a lot of emotional upheaval over the loss of that key.
A couple days later I was in my bedroom. Across from my bed was an empty table. I knelt down to pray (I was extremely religious for about 16 years). When I looked up and turned around, the key was on the table. I'll never forget, it was on the left bottom corner of the table, hanging over the edge of the table a little bit.
Spirits Do A Diamond Heist
I have an aunt and uncle that live in a very old house in KY it used to be a general's house in civil war time. She was missing a pair of very expensive diamond earrings, she assumed one of the workers they had there redoing their bathroom was to blame, so after a couple years, they were having their bedroom redone, new plaster, walls torn down, etc. they found the earrings inside the wall, sitting there like they had both been placed there….problem is, this wall was original to the house.
(no evidence of rodent activity either), even if there was, what are the chances a mouse or rat would go to her jewelry box, pick the pair of most expensive earrings and carry them both inside the wall and place them side by side?