What Invisible Force Is Throwing Stones?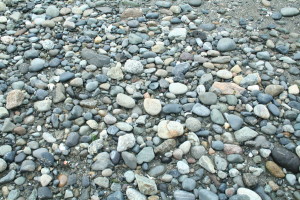 Imagine you are standing on your porch and a stone suddenly smacks into your side and drops to the ground.  You look but there is no one in site.  How would you react?
I have posted a couple stories on skyfalls where fish, frogs and other items have fallen from the sky en mass, but this is a slightly different phenomenon that I class as "Stones From Nowhere".  Instead of large quantities of rocks falling from the skies, these events seem to be individual rocks thrown with a purpose, or even sometimes specifically targeted showers of rocks.  Here is the story that I found on Reddit that got me interested in this phenomenon.
My Grandmother was born in the early 1900s in Northern Virginia. She passed away on July 13th 1996 after raising ten children and helping with quite a few grand-kids and great grand-kids. She was a country raised woman, full of back hills knowledge such as being able to tell you when and how much it would rain just by looking at the leaves on a tree. She also, according to her stories, experienced numerous paranormal phenomena. I joke that she was a magnet for the paranormal. I don't necessarily believe all of her stories, however, a few are corroborated by my aunts and uncles. I would like to share some of the stories that she told me. If I can research and add a bit of information along the way, I will. This is just one of those stories…

My grandparents used to live in a small "shack" in Nokesville, VA. on Vint Hill Road (215). The small place was next to a store named Buddy's Market. Both the house and the store are no longer there, being replaced with a new housing developement as has been most of the surrounding area. (These are the GPS coordinates for where Buddy's Market was once at: 38°44'0.97″N / 77°35'8.73″W. There is still a gravel pull off next to the road that was once part of the parking lot.) I am not sure how long they lived at this location. In 1952 they moved out of there to a larger house less than 1/4 a mile away, when my father was 1 year old.

There was a back porch which faced a field to the rear of the house. One day while my grandmother was on the porch peeling potatoes she heard a small thump at her feet. She looked down and a small smooth stone was spinning at her feet as if someone had lightly kicked it. As she watched it, another stone landed as though it was lightly tossed from somewhere. Both stones about the size of a chicken egg. She looked around to see who was tossing the stones at the porch, but there was no one in site. She had a clear view around the entire house due to it being in a field. She kicked the stones away, but they were quickly replaced by another. She told me that it was as if the stones just appeared two feet above the porch and dropped straight down.

This continued for the rest of the time that they spent in the house. Many years, in fact. Anywhere from 5-12 stones appearing almost daily, varying in size from that of a pea to the size of a golf ball. Sometimes, but rarely, even larger. She would toss them from the porch and eventually developed a sizable rock pile next to the porch. 3 of my aunts remember the rock pile and two say that they had seen the rocks appear on occasion as well.

My grandmother told me that she never noticed stones appearing at the new house, that it was just something that occured on the porch of the small place. She told me that she was not bothered by the experience. "They were only rocks, Jason. Nothing to be scared of."

After a little research into the matter, I learned that "stone showers" are a rather… common?… event in the paranormal world. Although most of the events reported rocks being thrown, hurled or even falling with enough force to injure or break things. I could find very little evidence for the behavior which my grandmother told me of; stones gently dropping in a confined location for a period of time as great as what she witnessed.

Posted by: MarkTwainTwacks
This Stones From Nowhere Case Is Not Unique
I am always surprised and excited when I run into a phenomenon I haven't hear of before so had to do some digging.  It turns out the the "Stones From Nowhere" phenomenon is not an isolated one.  There are documented cases happening as far back as the late 1600's.
The earliest written account I have reference to is from Robert Kirk who in 1690 attributed the throwing of "great stons" to  "invisible wights."  Another unexplained stone-throwing incident that took place in New Hampshire was recorded in a pamphlet entitled "Lithobolia, or the Stone-throwing Devil," published in London in 1698.
The earliest undocumented account is that from physician to King Theodoric of the Ostrogoths, who in 530 AD, was said to been beset by a 'diabolic infestation' as showers of stones fell constantly on his roof.
The stories go on and on and I will endeavor to post as many as I can of these Stones From Nowhere cases as I can find.
Have You Experienced The Stones From Nowhere Phenomenon?
Have you or a family member experienced a Stones From Nowhere type experience?  If so you should absolutely send us an email fully detailing what happened.  You can of course email your thoughts on this bizarre phenomenon as well or just post your comments below.  Both will make us happy!