The Headline About A Humanoid Got Me…
Honestly I really have low expectations these days when I see a headline like Strange Humanoid Creature Photo Solved.  I have to click on it and see what I can find.  The reality is that there is a good chance that a trail cam might catch something funky lurking in the woods.
As far as the story goes, I found one reference on Reditt from 2013 with a story about these being caught by a buddy's tree cam. Since then they have migrated around the web a bit, making it hard to get a solid grip on the truth of the story and their origins.
Here are the photos of what is supposed to be a humanoid caught by a tree cam, what do you see?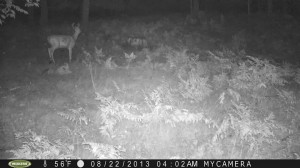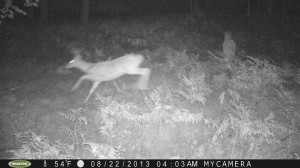 What Is This Humanoid Figure?
To me, the last figure looks like a transparent image of a smiling kid.  But that is just my initial take on it.  A cryptid or unkown humanoid?  NAH!
That leaves the question of what it is.  The two remaining questions are a ghost of some sort or a photoshopped image.  Zooming in on the last frame, there is some funky smudging around the "humanoid" that would seem to indicate that something had been done there.
Running the image through some analysis we get these results.  The first is just inverting the picture.  The second is some more advanced analysis for image errors.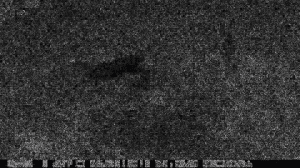 Are We Seeing A Humanoid Here?
I will fully admit that I am no photo analysis expert but these shots of a humanoid supposedly caught on a trail cam seem suspicious to me.  What about you, do you have a theory as to what is going on with these images?  Post your comments below on what you think the "humanoid trail cam photos" really are showing!