Why Would UFOs Need to Hide in Clouds?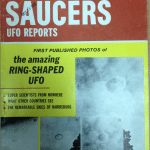 UFOSightingsDaily has posted a pretty in depth article on UFOs and their ability to generate and hide in clouds.  What do you think?  Is cloud formation and cloaking the low-rent ghetto version of alien stealth technology or are people just seeing what they want to see in the cloud formations?
Private Stone remembered his Kodak Brownie camera which was in his car. He ran over to the car, which was parked nearby, grabbed the camera and took six pictures in fairly rapid sequence. After the second picture was taken, the strange ring started to develop a mist around itself. The mist thickened rapidly until it was more like a small cloud and within 30 to 60 seconds the Black ring was completely enveloped within a small compact cloud of its own.
I won't say that UFOs hiding in clouds isn't possible, but is that really the best technology they are bringing to the table?  I would rack this up to being an old phenomenon but people are posting plenty of YouTube videos of what they claim are UFOs hiding in cloud formations.
As for UFOs creating clouds and hiding in them, I am on the fence.  Seems sort of cheesy to me.  If they can cross interstellar space, then couldn't they cloak their ships with something more elaborate than a cloud?
"There are laws of physics yet to be discovered, and in this case (the ring UFO) I believe that the human eye and the camera saw only a part of the aerial object." Prof. Charles Maney