Was This Person Abducted And Have A Photograph To Prove It?
A recent post on Reddit by Killerfishfinger has started a serious debate as to how a mysterious photograph could have shown up on his cell phone.  With no recollection of anything happening or of taking the photograph, rational answers are in short supply!
"The 'details' bit on my phone states this image was taken at 22:51:22  last night (May 26th, 2014) – I am really creeped out because I went to bed about 9:30-10ish last night and can't remember getting back up! This is the only weird photo on my phone, can anyone help??"
Initial arguments were that it was a photo of something through a window or a funky picture of himself in his bedroom mirror.  In theory a double flash from his phone could account for the two lights, as could the reflections from the double panes of glass in the window.  But those were both discounted after some debate.
Eddie_Hitler – Don't want to rain on your parade, but could it just be the camera flash from your phone reflecting off the mirror at a strange angle? Is the mirror completely clean and free of smears and smudges?
Poisonstixx – Unless the smudges are in the form of a treeline or he has a mirror hanging outside, I doubt it.
The treeline question was deeply investigated by the people following the thread and after the OP uploaded pics of his front yard, it was determined that the photo was very likely taken there.
Photo Manipulation Of The Killerfishfinger Photograph
Several people took a stab at playing with the lighting levels in his photograph and the details they revealed only raised more question instead of answers.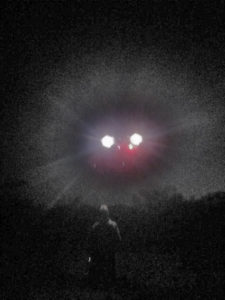 The initial manipulation show a strange figure under the lights.  Several people questioned if it could be the OP and he answered that while he can't rule it out, he is fairly skinny and doesn't have that sort of hoody.  The shots also show that the figure is holding something that either is self illuminated or reflecting the lights from above, further deepening the mystery.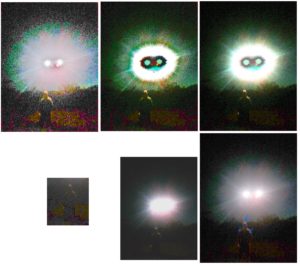 ---
---
Is This UFO Just A Drone?
One theory that was put forth is that this UFO photo is a hoax and that the whole thing is simply a shot of one of his friends with a quadrotor type drone fitted with some insanely bright lights.  I can't rule that out as impossible, but considering the size of the object, it would have to have been a fairly large drone.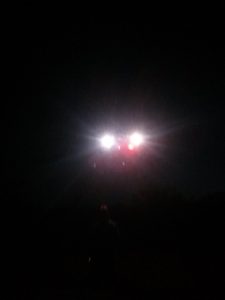 Personally, I'm not buying that as an answer.  The lights are too far apart and far too intense for any normal sized civilian drone.  I could be wrong on that though, so if I am, feel free to post in the comments!
There Is Something Odd About The Lights
One poster pointed out that if you analyze the lights, they are pretty funky.
KANNABULL – What really puzzles me is the light itself, to the untrained eye it appears to be a regular light. Average commercial lights often come in different kinds, halogen, sodium, xenon. These are not any of those halogen often creates rings of faint green or orange as does sodium lights. Xenon tube lights are bright blue to purple looking. This light source does have the brightness and wavelength of a xenon but there are other wave lengths as well.  There is an insane amount of color for it being that bright, just thought I would point it out.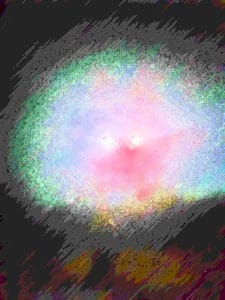 Another Unsolved UFO Photo
For now this is going to have to remain one of the unsolved and unexplained UFO photos.  The terrifying part of course is that the poster had no memory of the event, and that there is clearly a humanoid figure facing him underneath the object.  Who or what that is, what they were doing there and why he doesn't remember any of this makes me wonder what percentage of the Earth's populace has had some sort of visitation, but has no memory of the encounter.
It is a given fact that both aliens and their human agents alike have the technology to alter and erase memories.  Is that what happened here?  Was the poster abducted, tested and release with a wiped memory and his abductors just missed that he snapped a picture of them?  I would say that time will tell, but I'm betting we never solve this one.