Is this a Grey alien that was caught on tape or something mundane?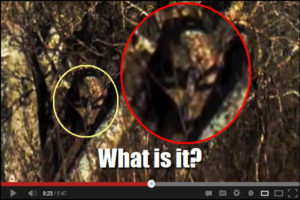 A Texas man claims to have snapped a photographed of a "Grey" alien in the woods of Texas.  According to a sources,  Gary Richards reportedly took the photo in the woods near Cibolo, TX.
As he was going through the pictures, he notices the odd classic "Grey" alien looking head between two branches.
Supposedly when Richards went back to the same spot the following day, the figure was gone.  Take a look at the video and decide for yourself.
As for me I find it odd that the alien would be seen in the first place.  But more to the point, it is odd that he was "photographing the woods" when he caught the pic.  Also, the closer you look at the shape, the more artificial it looks.  What do you think?
Post your comments below and let me know your opinion on this one!