Did This Family Accidentally Film Bigfoot Swimming?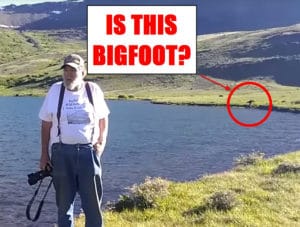 The YouTube channel Borean Calling uploaded this video of the Wildhorse Lake Bigfoot.
Stated to have been shot on July 16th 2016  in the Steens Mountains of Oregon. The Wildhorse Lake Bigfoot video shows something fleeing the lake and sprinting across the open field for cover. It is big, moves fairly fast and has long arms, but is it a Bigfoot?
Could this Bigfoot that has realized it has been spotted and is taking off to hide or is this a decently executed hoax?
The Steens mountain is in a series of peaks along the south eastern edge of the Steens Mountain Wilderness area. The park covers 170,202 acres of south eastern Oregon. Wildhorse Lake sits in a valley not far from the peak of Steen Mountain itself.
---
---
https://youtu.be/fACEbhKA5d8
The Wildhorse Lake Bigfoot video doesn't seem staged, but at the same time it isn't wholly convincing either.
HAVE YOU SEEN A BIGFOOT IN THE STEEN MOUNTAINS?
SEND US YOUR REPORT!!!
Post your comments below and let us know what you think we are seeing here.  Is this a Bigfoot caught in the act of going for a swim? It could just be another hiker hot footing it back to camp. What do you think the running creature in this video is?